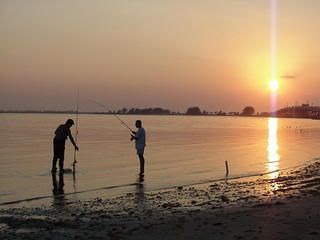 In waterfront Narragansett, RI in the zip code of 02882 homeowners say "Not on My House You Don't" place the orange sticker of notoriety on student rental homes.  It is the unfortunate distinction to have one of these stickers marked on your home due to a nuisance issue that has occurred at the property.  See certain areas of this great seaside Narragansett community have a huge population of college renters primarily from the University of Rhode Island - the 'down the line' population of college kids.  Nothing wrong with that since they supply good income to the house owners - when they behave. 
The Narragansett police are allowed to place a 10 by 14 inch orange sticker on the front door (thereby branding it) of houses that are accused of being a public nuisance...that is any public get together of 5 or more people that substantially disturbs the quiet environment of a neighborhood by unlawful conduct such as loud noise and drunken behavior.  Home owners of these Narragansett waterfront homes that rent out to the students also face fines in order to put pressure on the tenants to behave.  Well a judge in RI had upheld this orange sticker policy recently but the ACLU has taken up the charge believing that it is unconstitutional and violates a persons rights.  We all await the outcome of this challenge.
So in searching for Narragansett RI homes you will want to be sure that you find the right neighborhood to buy in and a Realtor who does the homework to ensure there are no orange stickers on the Narragansett neighborhood doors.  Remember the slogan "Not on My house you don't!" and please give me a call. I know the waterfront homes of Narragansett well and can give you insight into all the neighborhoods when you are ready to buy.

View Larger Map<.center>

This blog © and its contents is original to Ginny Lacey Gorman
Ginny L. Gorman, a purveyor of Fine RI Waterfront Real Estate   
Specializing in waterfront, ocean front, vacation, coastal and luxury homes for sale in North Kingstown, South Kingstown, Narragansett, Jamestown, Charlestown, East Greenwich, Exeter, West Greenwich RI and beyond ...  I sell dreams!  Because there is no place like home...the RI Real Estate Agent in the Sparkly Red Shoes.
Looking for a knowledgeable Rhode Island Real Estate Agent?  Let me GOOGLE one for you!
cell: 401.529.7849      Ginny Lacey Gorman, Realtor