What is free in local RI Real Estate today?

One could say there are carney barkers at every street corner offering buyers or sellers free services for anything in local RI real estate today and every other day. Well for one we have craigslist, lists of 'free' property lists on HUD and Bank foreclosures on the web, Zillow gives you free home estimates, For Sale by Owners believe they can sell their properties for free and OMG the list goes on.

So this is good competition that gets ones adrenalin going and this market and economy just boosts me up in delivering great customer service to clients - it is the referral process that works best in my RI market. How about yours? Oh, and it's perhaps my 'Ginny of Oz' shoes that helps people believe there is no place like home.

I did promise you something free this month in RI local real estate but I covered that in the first paragraph so let's take a bump over to another state close enough to RI and still in the Northeast corridor to enjoy for FREE.

Yes, believe it all National Parks have free admittance from April 17-25th this month throughout the U.S (head to Maine to Arcadia National Park in the Northeast for your National Park). There are 392 National Parks in this beautiful country to visit and enjoy for free this month. So talk about free real estate this you can't put a price on!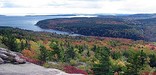 Arcadia National Park, Maine

The tidbit for today from the 'Ginny of Oz' realtor woman in the red sparkly shoes.
This blog © and its contents is original to Ginny Lacey Gorman
Ginny L. Gorman, a purveyor of Fine RI Waterfront Real Estate   
Specializing in waterfront, ocean front, vacation, coastal and luxury homes for sale in North Kingstown, South Kingstown, Narragansett, Jamestown, Charlestown, East Greenwich, Exeter, West Greenwich RI and beyond ...  I sell dreams!  Because there is no place like home...the RI Real Estate Agent in the Sparkly Red Shoes.
Looking for a knowledgeable Rhode Island Real Estate Agent?  Let me GOOGLE one for you!
cell: 401.529.7849      Ginny Lacey Gorman, Realtor